Eden Kush regular
(Sapphire OG x Girl Scout Cookies Bx2)
Indoor
Very special aromas is what characterizes this strain. The Sapphire OG mom is a fast growing plant with classic OG structure and pretty good yielder when supported by tomato cages, for example. She has a very distinct smell that i call the "pharmacy cherry". It reminds me of the perfume section in a pharmacy, like a cherry-ish flower and complex undertones. The dad was a Girl Scout Cookie BX2 with indica traits. The secondary stems stay close to the main stem (very unusual trait) which provide better support. Thick main stem with heavy menthol fragrance.
The resulting strain has lots of variations but all pheno relatively stays in the OG world.
Aroma : the 4 main variations are:
1- the classic OG funk pheno which is relatively rare.
2- the second pheno is the winner, in my opinion, with an unbelievable cherry muffin/cake smell with the chocolate at the end.
3- there is the minty chocolate pheno which doesn't reek as much as the others and are super frosty. The mint side is really noticeable.
4- the last pheno is special yes, but not very pleasant to the nose. It would be fun to see a terpene analyses of that. Its like an industrial kind of sour grease/detergent that flirts with the bitter side of cherries.
The structure can be super solid or thin like a classic OG or a little bit bigger. The harvest time turns around 9 weeks. Even lowers offer good density and lots of frost, some pheno look like ice cream.
Indoor flowering 9 weeks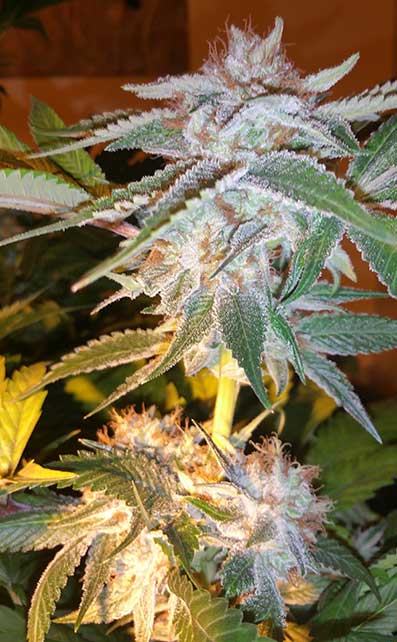 ------------------------------------------------------------

Eden Kush White Woods Girl Scout Cookies
Prices

WW- Girl Scout Cookies Bx 2 F2 regular


Indoor
A cross of the indica male with a sativa female.
The indica pheno is bushy with side branching that stay tight to the main stem, very unusual trait. The sativa pheno is more smelly and finishes 4-5 days later. The stem is surprisingly rigid and the flower really has that GSC look to it.

I'm not that much into the new school varieties but the cookies is famous for frost and density, so I had to give it a try! The offspring I chose a parent, were sold as Bx2s and 2 phenos came out. Super indica and sativa.
Both pheno have that Vicks Vaporub stem smell and even reflects in the finished product. A deep kush smell is the dominant aroma of the strain but the indica pheno is more on the kush side and the sativa is more in the flower spectrum like a rose type soft herbal twist.


Indoor flowering around 9 weeks