Eden Kush regular
(Sapphire OG x GSC Bx2)
Indoor
Very special aromas is what characterizes this strain. The Sapphire OG mom is a fast growing plant with classic OG structure and pretty good yielder when supported by tomato cages, for example. She has a very distinct smell that i call the "pharmacy cherry". It reminds me of the perfume section in a pharmacy, like a cherry-ish flower and complex undertones. The dad was a Girl Scout Cookie BX2 with indica traits. The secondary stems stay close to the main stem (very unusual trait) which provide better support. Thick main stem with heavy menthol fragrance.
The resulting strain has lots of variations but all pheno relatively stays in the OG world.
Aroma : the 4 main variations are:
1- the classic OG funk pheno which is relatively rare.
2- the second pheno is the winner, in my opinion, with an unbelievable cherry muffin/cake smell with the chocolate at the end.
3- there is the minty chocolate pheno which doesn't reek as much as the others and are super frosty. The mint side is really noticeable.
4- the last pheno is special yes, but not very pleasant to the nose. It would be fun to see a terpene analyses of that. Its like an industrial kind of sour grease/detergent that flirts with the bitter side of cherries.
The structure can be super solid or thin like a classic OG or a little bit bigger. The harvest time turns around 9 weeks. Even lowers offer good density and lots of frost, some pheno look like ice cream.
Indoor flowering 9 weeks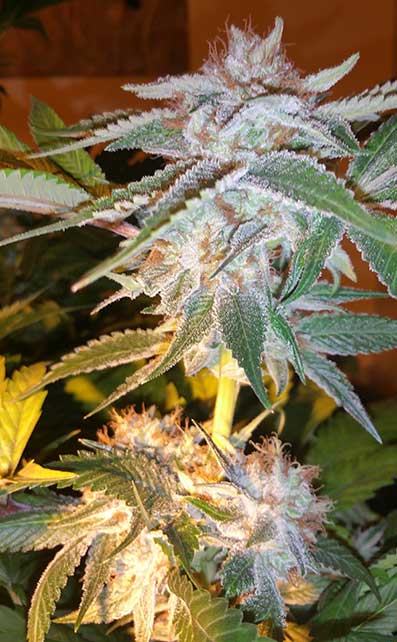 ------------------------------------------------------------
Eden Kush Fruit Island Mana Kush
Purple Kush x ISS Sky Kush Sky Kush yellow
White Woods Cookies Breeder Box Set Tshirt Prices
Fruit Island regular
(ISS F3/ Qleaner x Sky Kush)

Indoor / outdoor
The ISS/Qleaner used in this cross was a fast growing plant, and 9, 9-1/2 weeks of flowering. It was a representation of ISS with less stretch and was a bit of a wider plant. The smell was moderately lemony/fruit and the background was ISS but without the strong, strong fragrance that travel trough bags and clothes. It was a good option for commercial. The high was ISS too. The Sky Kush male used in this cross was a sturdy fast vegging 50 days, stretch indica. The resulting strain has a lot of different phenotypes. Around 50% of the offspring will be ISS dominant, so it means; stretchy, very smelly, longer to bloom. In the other 50 %, you will find phenos that blends equally Qleaner, ISS and L.A. Confidential. Ive been surprised to find some that exhibits L.A. Confidential dominance; softer, rounder smelling plant more oriented towards earthy terps, turns purple, same L.A. bud structure but super sized due to heavy yielding Qleaner and ISS. In my opinion, this pheno is the keeper pheno. Cola-can sized buds have been achieved by amateur and first time growers with NO BLOOM BOOSTER and NO SUGAR added. True story, and the proof is on the picture below. This strain has a keeper for every garden.
Indoor flowering 9 weeks
------------------------------------------------------------

Eden Kush Fruit Island Mana Kush
Purple Kush x ISS Sky Kush Sky Kush yellow
White Woods Cookies Breeder Box Set Tshirt Prices
Mana Kush regular
(Critical + 2.0 x Girl Scout Cookies)
Indoor
Mana Kush is really surprising for its quick flowering period and super strong sleep inducing effect. The stems are very stretchy but truly durable against wind/animals hitting branches. Will stand straight until the harvest without stakes or trellis. Superb light penetration that will get you big bulky lowers.
This cross should not be seen as a cookies on steroids but as an extra potent critical +. It as a very distinctive spicy smell that reminds the sativa dominant critical + mom but more complete terpene profile. Some have a sugary twist to it like sugar. The nugs are more dense than critical + with less colouring.
Indoor Flowering 45-50 days
------------------------------------------------------------
Eden Kush Fruit Island Mana Kush
Purple Kush x ISS Sky Kush Sky Kush yellow
White Woods Cookies Breeder Box Set Tshirt Prices
Purple Kush x Island Sweet Skunk regular
Indoor
For this cross, I revisited the oldest seed stock I had from the Island Sweet Skunk. As f2's, there was variation in the ISS offspring. I decided to go opposite of my usual trait selection (different male than Sky Kush). I selected a slim branched stretcher with a thinner leaf ISS to use as the father.
The female was the (locally) famous purple kush. It is a big stem indica, vigorous Afghani x Hindu kush, finish around day 63, but I have taken it to 70 once. Becomes purple very easily and resists dry soil and under feeding as well as over feeding, but likes a drier root zone. ISS and the Purple Kush, it is sure to make it worth growing. Under a single light best suited for scrog / trellising / pruning / bending or with lower light levels with the stretch of certain phenos compared to the others.
While testing, I witnessed variations in stature, nug structure and of course aroma. From seriously knuckled nuggets to puffy/hairy round buds, to dense rock hard on tall sticks with almost nothing to trim due to incredible resin coverage.
Regardless the pheno, flowering time seems to be consistent at the 54 to 63.
------------------------------------------------------------
Eden Kush Fruit Island Mana Kush
Purple Kush x ISS Sky Kush Sky Kush yellow
White Woods Cookies Breeder Box Set Tshirt Prices
Sky Kush regular
and
Sky Kush yellow pheno regular
(LA Confidential x Island Sweet Skunk)

Indoor
The sky kush cross was a dream I had for years. I wanted to have the incredible flavor of the PRIZED Island Sweet Skunk (ISS) into a much more compact, manageable, outdoor, fast flowering plant without loosing too much quality.
So I went seeking a good yielder, indica dominant fast finisher. I decided to go with the squat, sturdy, 50 day, 100% indica CUP WINNER LA Confidential, from DNA Genetics. I selected a pheno that had a Pakistani kushy-ness with a minty twist to it. The stem smells exactly like vicks vapo-rub. I tested it outdoors and it finished as soon as end of September, at 43 NL. The dad comes from my F3 version of Island Sweet Skunk. Inbred twice towards properties of vigour and bigger stems, a shorter bloom phase and rounder, more dense bud sites. I crossed the indica spectrum back in the ISS genetics. The terpenes favour a little more myrcene lift to the already flavourful ISS. Outdoors it prefers mild conditions with little of the extreme swings.
I selected a wide, sturdy, fast vegging male and crossed it with the LA.
It resulted into a stretch indica (90% of the time, sativa frame with rock-hard golf ball size nugs) or a full indica (10% of the time, compact plant that produces huge round flowers).
The selection started with 82 phenotypes to been screened to find 9 great females and 1 male. The father was a representation of the average population.
All 9 females have been tested and 5 "best in their own way" phenos were chosen. The keeper was indica dominant that produces big grenade size flowers with almost no stretch, yielded more than the others and smells like the exact mid way blend between fresh blueberries and artificial grape. When it cures, a cheesy kushy-ness really comes out.
I separated this pheno from the "general population".
It is tagged as "Yellow pheno".
The general population aroma goes from full grapes to black licorice, to red wine, to soap gum.
All pheno's of this cross are commercially viable and finish around 50 days.
2 cup winners merged into a real 50 days strain!
Indoor flowering 50 days
------------------------------------------------------------
Eden Kush Fruit Island Mana Kush
Purple Kush x ISS Sky Kush Sky Kush yellow
White Woods Cookies Breeder Box Set Tshirt Prices
White Woods Cookies regular
(Girl Scout Cookies copy)
Indoor
A cross of the indica male with a sativa female. The offspring are around 60I/40S.
The indica pheno is bushy with side branching that stay tight to the main stem, very unusual trait. The sativa pheno is more smelly and finishes 4-5 days later. The stem is surprisingly rigid and the flower really has that GSC look to it.
I'm not that much into the new school varieties but the cookies is famous for frost and density so i had to give it a try! The offspring I chose a parent from were sold as Bx2s and 2 phenos came out. Super indica and sativa.
Both pheno have that Vicks Vaporub stem smell and even reflects in the finished product. A deep plain kush smell is the dominant aroma of the strain but the indica pheno is more on the kush side and the sativa is more in the flower spectrum like a rose type soft herbal twist. There is a portion of weird salt in it, like a smokey/salty when you rub your nose after smelling the plant.


Indoor flowering around 9 weeks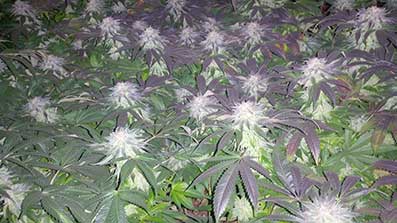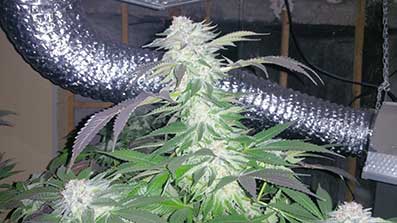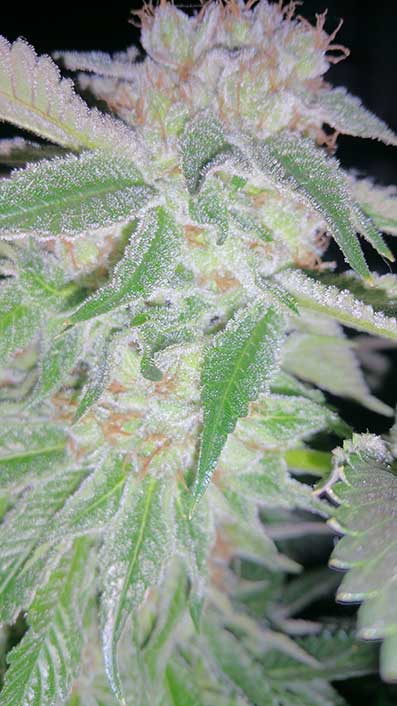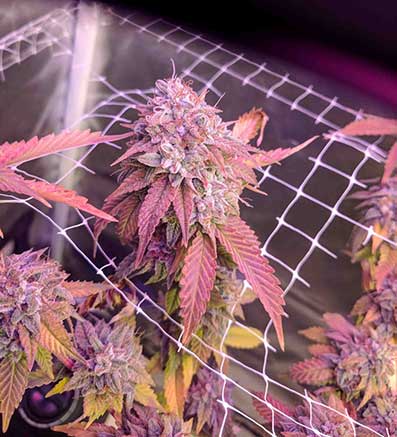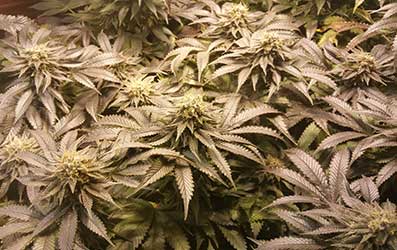 ------------------------------------------------------------
Eden Kush Fruit Island Mana Kush
Purple Kush x ISS Sky Kush Sky Kush yellow
White Woods Cookies Breeder Box Set Tshirt Prices
Breeder's Box Set
1 pack each of the 7 strains listed below from White Woods
Fruit Island, Eden Kush, Mana Kush, Purple Kush x ISS, Sky Kush, Sky Kush Yellow Pheno and White Woods Cookies, gets a free quality White Woods Genetics shirt. One size only XXL (T shirt shipping not included).

White

Original

Back of T shirt